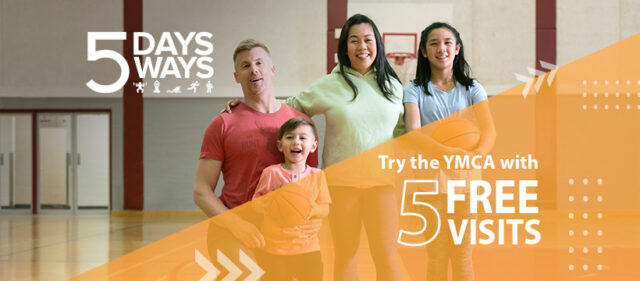 5 Days 5 ways at the YMCA! 
Try the Y with five free visits!
The YMCA is a place where you can try something new, connect with others and stay healthy in spirit, mind, and body. Whether your goal is to reduce stress, train for a race or just feel healthier, we're here to help! Learn about all the different ways to be active at your YMCA. With so many activities available, you'll be sure to find your way to achieving your fitness goals. 
One membership, all the benefits: 
      No locked-in contracts

 

      A free fitness consultation 

 

      Free swim lessons for all ages

 

      Unlimited drop-in group fitness classes including yoga, Muscle Fit, cycling and more

 

      Unlimited drop-in pool activities including Aquafit and lane swimming

 

      Member discounts on registered programs and personal training

 

      Free membership hold options

 

Access to Canadian YMCA membership centres

 
 Terms and conditions: 
Offer expires April 30, 2023. The 5 free visits expire 2 weeks after activation. 5 Days 5 Ways is open to Sault Ste. Marie residents only. Limited to one trial offer per person. Government-issued photo ID required. 
Stop by our Membership Services Desk to s

ign up today!
*Please make sure to bring your ID and banking info with you to set up your membership.
Membership Fees plus tax (Monthly)
Youth
$31.28
Student 15+
$39.12
Adult
$57.02
Membership Plus
$79.46
Senior 60+
$45.65
Senior 60+ Plus
$68.10
1 Adult Family
$80.75
2 Adult Family
$124.14
1 Adult Plus Family
$109.63
2 Adult Plus Family
$186.38
1 Adult & 1 Adult Plus Family
$158.61
Day Use Fee  plus tax (including open swims)
Youth
$5
Student 15+
$6.50
Adult
$10
Senior 60+
$8
Family
$22